All Right People Lets Hit It...
Kick Stands UP!
First, let me welcome you to McKahan's Motorcycles in Vonore, Tn. We are located on what's called "The Loop", a wonderful ride through some of Tennessee's most scenic landscapes. Starting from our shop on Highway 360 we usually go north thirteen miles to Highway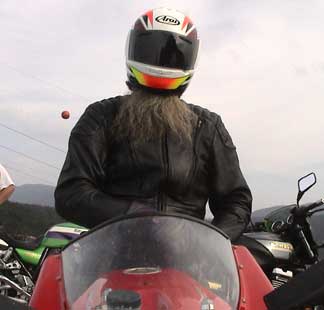 411. Turning right on Hwy 411, still going north you cross over the Little Tennessee River bridge about two miles to Highway 72. Turn right again and about three miles into Highway 72 is a dangerous off camber right hand turn Be careful there, I have called the Tennessee State road commission and they have yet to do anything about that turn, whether it be sterner warning signs or fixing the road itself. Its fallen on deaf ears. Back to the ride, other than that turn the rest of Highway 72 is quite uneventful. The road dead ends into Highway 129, turn right once again. Within site of your turn is a great little restaurant on the right. Continue on and you'll be riding along the river, further up the road on your left is the access to the Foothills Parkway (wow, what a nice ride) which will take you to Pigeon Forge and DollyWood. A cool place to visit while your here. Check the website for DollyWood's days of operation and hours. Past the entrance to the Foothills Parkway down about three miles is the start of the Dragon. Please read this carefully, there are radar traps along the road leading up to the start of the Dragon, and quite a few along the Dragon. Leading up to the Dragon I believe the speed (not really posted well enough) is 40 miles an hour. If this is your first time over the Dragon, do not ever let your speed exceed thirty miles an hour. Even then use real caution, as the saying goes: "There are old pilots and there are bold pilots, but there are no old bold pilots". With the Dragon's 318 turns in eleven miles, its easy to get caught up in the adrenalin rush when people are passing you or crowding you to go faster. Believe me when I tell you, its difficult to make money on Monday morning when your hands are skinned up and don't move well. Ride your own pace. Go to the top of the mountain, congratulate yourself for having made it with a root beer and a smoked trout sandwich. This is a good time to check your gas situation, you're going to need it. The Cherohala has some rest room facilities but no gas pumps. Going left at the Deal's Gap resort on Highway 28 will take you to Fontana Dam, a very cool ride with a lot of twisty turns. Lots of shade and riding along the river. If you leave the top of Deal's Gap and continue on Highwa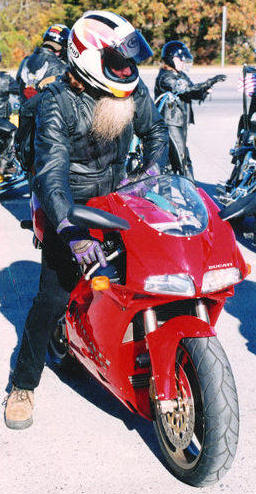 y 129 towards Robbinsville, on your right is The Joyce Kilmer Forest (Joyce Kilmer authored a very famous poem 'Trees' and was later killed in WWI.) There you can bypass Robbinsville, (a great little town you can head to and still loop out to the Cherohala) see a wonderful forest and pop out on the Cherohala Skyway. Turning right again, you might want to pull off and bundle up. The elevation goes up near six thousand feet. Breath taking views and forty miles an hour should do it. A long and beautiful ride I usually stop at a pull off area called Hoopers Bald, sit on a Paul Bunyan sized picnic table up there and use my amateur radio to talk with hams in Va., Tn., Ga., N.C. with less than five watts because of the elevation, great fun. I am amateur radio operator K4VE at your service. Continuing on you will come to a sign about the Bald River Falls and Fish Hatchery. If you have the time, make a left and cruise beside the stream for a few miles and you will come to one of our local treasures. The Bald River Falls, further up is the state run fish hatchery. Did I mention bring your camera? Be sure to pack a bathing suit or swim trunks when you ride here in TN. There are way too many places like this not to shut your scooter off and take a cool refreshing dip. Returning to the Cherohala hang a left and continue to Tellico Plains seven or so more miles. If your hungry, there on the right is The Beach Drive In. Picnic tables, burgers, soft drinks and some great ice cream right on the river. Once filled, continue on one more mile to Highway 360. Turn right, go nine miles and your back home at McKahan's Motorcycles. Hope you enjoyed the trip. Keep our phone number handy, if you have a breakdown, riding mishap or even need directions to us, give us a call @ 423 295-RACE . We do pickups, welding/repair to get you back on the road, insurance claims and storage if you need to go back home and have to leave your scooter behind for any reason.